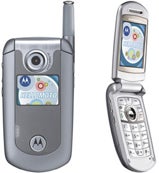 Sick of the half a dozen annoying ringtones your phone comes with? If you're a Verizon Wireless subscriber with a fairly modern phone, you can turn MP3s from your own music library into ringtones and make your phone say something about you. You might want to be cautious, though, as questions might arise from your choice of the Baha Men's epic "Who Let the Dogs Out?"
The Consumerist has the short and sweep scoop on the matter, which essentially involves trimming an MP3 to a small size and sending it to your phone by emailing it as an attachment to your phone at yourphonenumber @vzwpix.com.
When I tried this a while ago on my Motorola E815 (seen at right), I found issues with using Apple's Mail program (the phone didn't recognize the attachments correctly) but Google's GMail worked as expected. The instructions at The Consumerist say you have to change the file's suffix to .mid, but I found it worked fine with .mp3 as well. Your results may vary.
Now, if you'll excuse me, I've got to finish my collection of 80s TV theme songs ringtones with MacGyver and The A-Team .