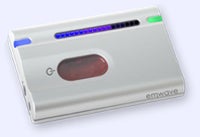 I generally make it a rule not to buy anything from people who go by "Doc," unless of course we're talking Doc Brown or Burt Lancaster from Field of Dreams . So the emWave Personal Stress Reliever, which was developed by a fellow named Doc Childre, isn't exactly at the top of my list (wait, seriously, the guy who developed a device to relieve your stress had "Chil" in his name?).
Supposedly, the device helps you reduce your stress by helping you reach a state of "psychophysiological coherence." In layman's terms, happiness. From what I can tell, the emWave is basically like a personal de-stressing video game. You put your thumb on the sensor, or attach the ear sensor and then watch little lights go from red to blue to green depending on how "coherent" you are. By breathing in and out, you can supposedly reduce your amount of stress.
All for the low, low price of $199.
[via Gearlog ]