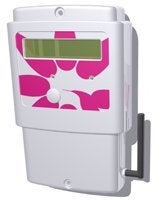 I haven't had the best luck with doorbells. My old apartment had a wireless one that required you to constantly change the batteries. My roommate took to leaving it off, explaining that we could turn it on when we knew people were coming over. Regardless of the questionable logic, we never did it anyway. The new place does have a doorbell (conventional), but it took about a month to get it working.
If I could pick up one of these GSM-based doorbells, I think I'd be set. My bedroom's on the third floor, so I have to run down two flights of stairs when the delivery couriers show up, as they frequently do. Sometimes they leave before I get to the bottom. The Waleli GSM-doorbell has a multitude of doorbell-enhancing functionality. Ringing the doorbell will call the owner's cell phone and then establish voice contact between ringer and ringee. The owner can then enter a PIN on their mobile phone to let the visitor in. And, if you ever forget your keys, you're set—as long as you have your phone on you.
Okay, there might be a security risk here or there—say you lose your phone and a serial murderer finds it. But hey, they don't call it the cutting edge for nothing.
[via New Launches ]