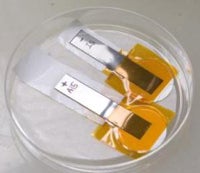 I'd like to say that we eat scientific breakthroughs for breakfast, but really, we eat Cheerios for breakfast. Scientific breakthroughs are more like a late-morning, pre-lunch snack. Like yogurt.
There's a problem with all the electronic devices that populate our lives. You see, they're power hungry little buggers. Either we have to make sure they're constantly tethered to an electrical outlet, or they need to have batteries. And batteries never last long enough, or they tend to, um, catch on fire . What are we to do?
Researchers at Brown University have discovered a way to make batteries out of plastic polymers instead of metal. The devices can either be quickly charged/discharged like a capacitor (with twice the capacity of a standard capacitor), or they can store and discharge power over time like a battery (in which case, they would provide 100 times the power of conventional alkaline batteries).
Best of all, these suckers are thin . The press release throws in the obligatory comparison to today's hot technology.
But Palmore said the new battery's form, as well as its function, is exciting. In width and height, it is smaller than an iPod Nano. And it's thinner, about as slim as an overhead transparency.
They're still working to fix a decrease in storage capacity over repeated recharging, but cross your fingers and we could have plastic batteries in a few years.
[via Gizmodo ]