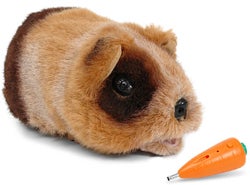 This is the level we've reached. I'm writing about a robotic pet: a guinea pig, to be precise. Now, I hear pets are very therapeutic, and by dint of not having to clean up, feed, or otherwise look after a robotic pet, I imagine them to be even more therapeutic.
That said, I feel like I'm some sort of crotchety old man here: "In my day we had real flesh and blood pets, and when they died, you can't just go change the battery." Frightening. Not unlike this robotic pet's face, which features sensor eyes and a creepy little nose.
Anyway, this robotic Guinea pig does have a name: the Gupi. He'll run his little robotic self around, and react to you buy either hiding if he's lonely or scared, or hang out with you if he's feeling a little more mellow. He can navigate most environments with the grace of an electronic robot vacuum, and when he's feeling low on juice, he'll come chew up his fake carrot recharger. And should one Gupi not be enough, you can buy a bunch of them, and they'll interact with each other (Hamster Dance, anyone?). The only question is how many times you want to shell out Gupi's $63 pricetag.
[via Gearlog ]