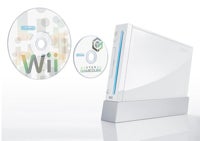 Why does Japan always get the cool stuff? Maybe because they're closer to where it all comes from. It's just over two wiiks—sorry, weeks —until Nintendo's Wii console arrives, and already there's news on an "enhanced" version of the console that will only be available in Japan.
You may remember that when the Wii's specs were first announced, playing standard DVDs was among the bullet points mentioned, but this functionality was apparently removed. Turns out that's only half the case—Japanese fans will be able to pick up an "enhanced" version of the console which will play back DVDs. According to a Nintendo spokesperson, there are no plans to release this version of the console in any other region. Nintendo's logic for dropping DVD playback functionality was that low-cost standalone players are widely available—though apparently not in Japan?
This is hardly make-or-break for most people I know; then again, I know several people who use their PS2s as DVD players simply from convenience. It's nice not to have to hook up another device to your TV. Oh, well.
[via Kotaku ]