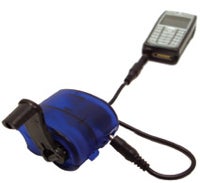 Cell phones have rapidly become one of the most indispensable gadgets for your average person on the street, letting you contact anybody you want anywhere you want, at any time. One remaining tether still exists: that life juice that keeps your cell phone charged and happy. Sure, you could carry extra batteries or your charger, but those have their own inconveniences.
Consider instead an Wind Up Phone Charger, which lets you recharge your cell phone by using only the power of your mind . Or, I guess, your hands. Which is somewhat less impressive, but still useful.
The Wind Up Charger is compatible with plenty of cellphones from the major manufacturers (Nokia, Motorola, Samsung), but hit up the link above for the full list. It'll run you about $12, but could save you a bundle if you're ever stuck without your charger.
[via Ubergizmo ]