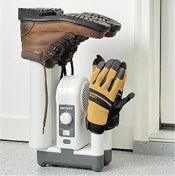 It's winter here in New England, and you know what that means: we all go into our caves and don't come out until spring (that's August for you non-natives). Actually, it means lots of fun shoveling snow and chipping at ice, trying to free our cars from their wintery bonds.
And then, when that's finally over and done with, you have to trudge back into your abode, sodden and cold, and hope that you were smart enough to have backups for your winter gear. Because there's nothing worse than putting on a cold, wet, wool hat and damp gloves.
You could just throw them on the radiator, in the dryer, or hang up them up to dry: but why do that when you can buy a dedicated gadget for just that purpose? Hence, the Winter Gear Dryer, which has tubes on which you can place your gloves and boots so they get all toasty warm for you next outdoor adventure. I'm sure it's useful, but if you've got the $95 it's going to cost you, you can probably afford to have another pair of gloves and boots. And if you don't have $95, you can probably go buy an electric heater and some PVC piping and make your own Winter Gear Dryer for a lot cheaper.
[via Uber-Review ]