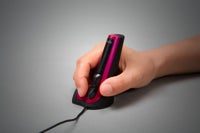 I had a battle with carpal tunnel back in college, but since then I've been in pretty good shape. Though I do spend most of my day working on the computer, so I'm probably due for a bout anytime now. Wow-Pen's eponymous product line aims to help reduce carpal tunnel syndrome with a more ergonomic input device.
The Wow-Pen is a vertical input device that you grip more like a pen. It claims to not only to be better for you, but to offer two buttons, a scroll wheel, and—most importantly—"Excellent performance for FPS gaming." Sold! Besides the basic wired model, there's are two wireless versions: RF, which requires an included USB dongle, and a Bluetooth version. Both wireless versions incorporate a laser pointer, and all three models include "Silver Nano Embedded for Anti-Bacteria," which I actually find creepier than the bacteria itself.
They'll work with Mac or PC, and are available in four striking colors: silver, blue, pink, or red. You should be able to find them around for about $40.
[via Chip Chick ]