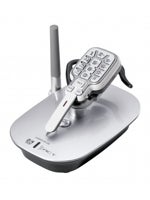 Memo to electronics makers: stop making ugly headsets. The combination Watch/Bluetooth headset was pretty bad, but this—this is ugly. And useless. It's a 2.4GHz cordless phone (for landlines, no less), mounted on a headset. Which, you know, is really convenient, because the only way to dial a number is to take the headset off or look in a mirror . And then, only if you've mastered the ability to read backwards.
The XACT XQ-2500 seems to have pretty much nothing going for it, as far as I can tell. I suppose, though, you could always get a friend or loved one to dial your ear for you. But they may never love you again .
[via Oh Gizmo! ]
Note: When you purchase something after clicking links in our articles, we may earn a small commission. Read our affiliate link policy for more details.