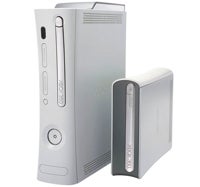 Remember that HD DVD add-on that Microsoft announced for the Xbox 360 in Japan last week? As predicted, it's coming to America too in mid-November. The price, however, is slightly more than the Japanese will be paying for it: $199. In addition, the drive will come bundled with an HD DVD copy of Peter Jackson's King Kong and a universal remote. Hurrah. Granted, it's still a $200 add-on to a $300-$400 console, but still. Together they're roughly the cost of a PS3, so go wild.
Microsoft revealed this news at its X06 conference in Barcelona today, along with a number of other announcements about both the Xbox 360 platform and Windows gaming. Among the big news was that Microsoft was releasing a Halo Real-Time Strategy game (explaining why they'd shut down a fan-made game in the last couple weeks), they're bringing a re-tooled Doom to Xbox Live Arcade, they've snagged a number of upcoming titles as Xbox 360 exclusives and, perhaps most impressively, they've gotten Peter Jackson's fledgling game studio to come onboard and develop an original title set in the Halo world—it's not Halo 3, in case you're wondering.
Suppose that explains the King Kong bundle though, eh?