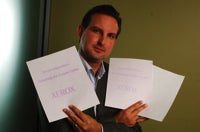 Disclosure: I own a bunch of shares in Xerox, as a gift from my grandfather when he used to work there. For quite some time, that didn't mean much: their share price had been hovering in the single digits for a few years, going as low as almost $4. They've been trending back up in the past few years, though, despite being a company founded largely upon the uses of paper.
Still, doesn't mean they can't innovate. For example, I totally dig the new concept for erasable paper that they've come up with. The company estimates that something like 40% of paper in an office is used for a day or less. So they set out to develop compounds where the ink disappears in about 24 hours, allowing you to reuse the same piece of paper over and over again. Of course, it's just a prototype, and you'll probably need a special printer to dispense the compounds. But it's clever and it helps the environment, so I'm for it. Plus, it'll be great for practical jokes.
When I used to work in an office, we'd do inane things like printing out emails and webpages for people to look at. Sometimes I think about the amount of trees we could have saved and I weep softly into my pillow. Thank you, Xerox. Thank you.
[via Gizmodo ]