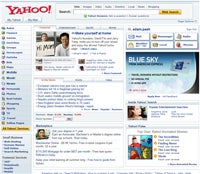 Even Internet sites can have mid-life crises, especially when they're as old as Yahoo (don't tell them we said that). Once king of the Internet portals, Yahoo has entered into a three-sided war for control of the lucrative Internet search market, the other sides of the triumvirate being Google and Microsoft.
So it's not that surprising that Yahoo decided to launch a new look for their front page. The new homepage integrates several features dependent on the Internet's latest buzzword technology, AJAX, and attempts to compete with similar offerings from Google and MS.
Though Yahoo has not yet made the new design their default homepage, it's a good bet that we'll be seeing the front page of the venerable portal updated in the near future. Alas, the new homepage is currently beta, only supporting IE6 and Firefox 1.5 users, so if you're on Safari or Opera, well, you'll have to wait. Or borrow someone elses' ocmputer.
In related news, we hear Yahoo is also planning on buying a red convertible and ditching its servers for newer, younger models.
[via Lifehacker ]