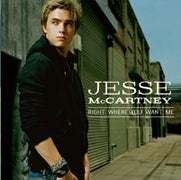 Just the other day we were touting Warner Music's deal with Internet video site YouTube, and what it could mean to our average Internet user. Now it appears that another label has gone the fair use route. Earlier this year, . Now they're continuing that pattern by releasing an entire album with no DRM.
Due to a deal with Hollywood Records, the Jesse McCartney album Right Where You Want Me will be sold as straight MP3 files for $9.99 (you can also buy WMA format, though I couldn't figure out whether or not that was DRM-free). It doesn't appear that you can buy the tracks individually, though, so you better want the full album.
In a post on the Yahoo Music blog, they explain their rationale:
But, a step in what direction? It has to do with this radical concept: Consumer choice.
Now, I caution anyone reading this to resist the urge to see the future of digital content as a war between DRM and an MP3 free-for-all. The prediction of some that all major labels will teeter and crumble is a bit premature – and probably not in anyone's ultimate best interest. Some say all DRM is evil and a complete hindrance to any innovation. I happen to disagree. I believe that when executed well, rights management can open up a lot of doors that would be otherwise locked – portable all-you-can-eat subscriptions being one notable example. Nobody has all the answers yet. Some say revolution, but I see an evolution coming, and I like it.DRM may be a necessary evil at the moment, but kudos to Yahoo and Hollywood Records for at least giving the option of non-DRM-encoded tracks. It's a step in the right direction.
[via Ars Technica ]