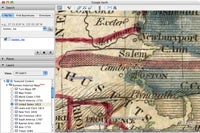 If it's been a while since you've checked out Google Earth, I highly recommend the latest Beta, especially if you're among the cartographically-enamored. A number of new overlays have been added to recent versions, including a truly glorious collection of historical maps from the Rumsey Collection. Take a look at the world from 1790, the US from 1833, Lewis and Clark's 1814 expedition, and a whole lot more. To turn 'em on, click on All Layers in the View pull-down menu for Layers, and open the Featured Content folder, then select the map of your choice.
Here's a look at Boston from 1833—it's pretty astounding to see even the physical differences in less than two hundred years (thanks landfill!). The maps are gorgeous, especially the 1790 globe overlay, which is fascinating to spin around. I used to have a bunch of maps on my wall, but now I content myself with Google Earth browsing for my fix.
[via Lifehacker ]
Note: When you purchase something after clicking links in our articles, we may earn a small commission. Read our affiliate link policy for more details.