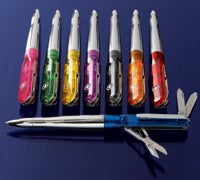 You know, after years of trying to fit a tiny little ballpoint pen into a Swiss Army knife, it looks like Victorinox got smart and figured out that it would be much easier to fit tools into a ballpoint pen instead.
Hence, the Swiss Army Spectrum Series. Besides featuring excellent ballpoint pen technology (with an ink cartridge by space pen-maker Fisher), it also includes a knife, scissors, file, screwdriver, and even a light (activated by pressing the Swiss cross). Choose from black, pink, green, yellow, violet, gray, orange, red, or blue.
Sure, $50 might seem like a lot to pay for a glorified ballpoint pen, but just think how proud MacGyver would be.
[via OhGizmo! ]