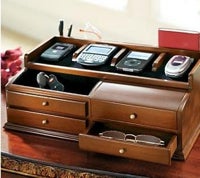 Currently, my "charging station" is a surge protector laden with all manner of cables and bricks. It's rather, er, unsightly, to say the least. I'm all over this Mahogany Charging Station, which can charge four electronic devices at once with its concealed surge protector (let's see: iPod, cell phone, Nintendo DS, and one free slot, hurrah!).
The kicker with this is, of course, the mahogany finish on the cherry wood. It lends a real air of class to your gadgets, don't you think? The kind of class that you can't put a price on—well, okay: $149.
Just one question: what do the glasses do after their all charged up?
[via The Red Ferret ]