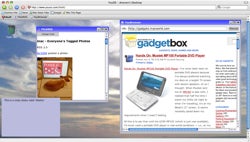 AJAX as a buzzword was just coming into being when I was leaving my web design/programming job. For those of you unfamiliar with the concept, AJAX stands for Asynchronous Java and XML; it uses HTML/CSS, JavaScript, and XML to create interactive applications on the web, best exemplified by sites like Google Maps.
Four enterprising students from MIT, Caltech and Stanford have banded together to create an operating system that runs entirely in AJAX. While YouOS, as they've called it, is far from perfect, it is remarkably impressive: it features a built-in web browser, mail program, text editor, IRC client, and more. For the truly geeky, it even has a JavaScript shell.
I played around with it for a while this morning, having had trouble accessing it last night due to its overwhelming popularity. While Safari isn't supported, the app does work in Firefox and Camino, with a few UI glitches (widgets like scrollbars seem to be the biggest issue), but it's still amazingly solid and fast too, at least on my 2GHz MacBook.
Is it going to replace your current OS? No way. Not yet anyway. But anyone who can't hear Google's ears perking up isn't listening very hard. At the very least, one would hope these talented four guys will have jobs waiting for them by the time they leave school. And twenty years from now, who knows? We might all be using the great-great-great-great-grandchildren of YouOS everyday.
[via Gizmodo ]
Note: When you purchase something after clicking links in our articles, we may earn a small commission. Read our affiliate link policy for more details.