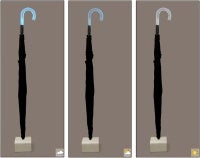 Instead of having to look outside or actually listen to the weather report on your local news channel of choice, you can look to your umbrella for guidance on its use on your way out the door. How? By WiFi of course.
Very cool Materious, but I have to ask the very geeky question: does it support WPA? If so, your umbrella just might be smarter than your pets. Just don't leave it on the train.
Note: When you purchase something after clicking links in our articles, we may earn a small commission. Read our affiliate link policy for more details.