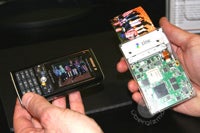 Sometimes, printing just seem so archaic now. I had a former co-worker who insisted upon printing out her email to read it. Let's just say we went through a lot of paper. But advances are still being made in the dead-tree field.
ZINK is a printing technology that does not reply on ink. Crazy, right? I thought so, too. Apparently instead of coloring paper with various pigments, ZINK instead uses special paper with embedded dye crystals that react chromatically to heat produced by the printer. This means, for example, that you can carry a printer around with you without having to worry about running out of ink in that crucial moment. Then again, you'll have to worry about running out of special paper. They claim a bunch of other benefits to ZINK paper, including it being affordable (yay!) non-toxic (double yay!).
But the other benefit appears to be that you can make printers a heck of a lot smaller, which makes them attractive for portable uses like making copies of pictures taken on a cell phone or digital camera. No word yet on pricing, or who's making these devices, but we can expect to see them later this year.
[via Ubergizmo ]