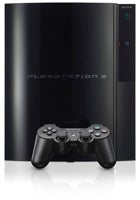 Having taken a page from Nintendo's playbook, Sony seems to have also borrowed one from Microsoft's marketing. Which begs the question: is there anybody left for Sony to get ideas from, or are they going to have to start coming up with their own?
The details we reported on last night seemed to suggest that the only feature difference between the $500 and $600 models of the PlayStation 3 were 40GB of storage space, which might seem hefty, but well, at least it might have been reasonable to aim for the lower-priced version.
As it turns out, that's just the tip of the Titanic -sinking iceberg. The $500 PS3 is lacking a number of the attractive features found on its higher-end sibling. Specifically: no 802.11 b/g wireless networking, no Memory Stick / Secure Digital / Compact Flash slots, and, perhaps most critical, no HDMI (high definition video connection). But for just $100 more, you can have all of these in the PS3 "premium" package. Also worth noting is that, no matter which system you buy, the PS3's controller, while motion-sensitive, does lack the force feedback "DualShock" capability, possibly due to lawsuits Sony has faced.
This marketing strategy seems reminiscent of the XBox 360's Core and Premium systems. The Core cost $100 less, but came without HD AV cables, a wireless headset, a wireless controller, a hard drive and other features that many gamers considered an essential part of the next-generation console experience. With the true Sony next-gen experience now running $600, I wonder if Sony's projections of 2 million consoles shipped during the launch window are simply delusional, or if there really are that many people who will shell out more than half a thousand dollars for a video game console.