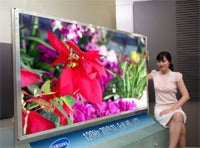 Granted, it's 33″ short of Panasonic's Godzilla plasma TV, but at 70″, Samsung's latest is a pretty darn big LCD HD display. It boasts the ability to display 1080p, a 180-degree viewing angle, and a 120Hz video signal.
Samsung plans to introduce the model on Wednesday, though production won't start until the first half of 2007. Price is anybody's guess, but the Panasonic 103″ is running for about $70,000, so one hopes a 33″ deficit will wipe out a proportional amount of the pricetag.
One thing's for sure; I'd love to have one of these suckers hooked up to my computer. Web surfing extreme .
[via Digital World ]