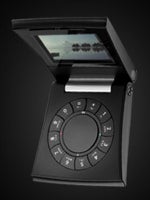 With everybody and their dog having a cellphone nowadays, it takes a bit of effort to make your portable telephonic communication device stand out. Samsung and Bang & Olufsen have teamed up to fight crime offer a rather unique take on the cellphone that they call Serene.
It's a clamshell-design phone that features a screen on one half and a circular button arrangement on the bottom, with a scroll wheel in the middle. The iPod has, of course, taught us all to love/worship/obey the scroll wheel, so that's probably a good choice, but there are strangely no pictures of anybody using the phone on B&O's website. To me, it looks like an uncomfortable handset to hold; plus, the circular arrangement of numeric keys might be intuitive for someone used to rotary phones, but is probably going to take some relearning for anybody used to the traditional 123 keypad layout.
Then again, maybe the reason there aren't any pictures of people using it is because it retails for $1,275. Yeah, that might be it.
[via Gearlog ]