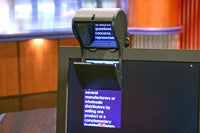 I've shot a few video podcasts using my MacBook's built-in iSight. While it's not the greatest camera in the world, it works pretty well, and it's hard to beat the fact that it's right there, no fiddling required.
But one issue I have is that even though the camera is just above the screen, I sometimes need to refer to something on my display. And even that brief flick of the eyes to the screen looks clunky and unprofessional. Professional newscasters, of course, have a teleprompter for their cameras: using reflection, the scripts are overlaid on the camera lens, allowing them to read the scripts while looking at the camera.
Bodelin's See Eye 2 Eye is a contraption that attaches to your webcam and uses a series of mirrors to allow you to look at both your screen and the camera at the same time. Not only does this let you use it as a teleprompter (using special software), but it also means that when having video chats, you can look at the person you're talking to and the camera at the same time.
It runs $99, and you have your choice of models compatible with standalone webcams or built-in webcams such as the iSight.
[via The Raw Feed ]