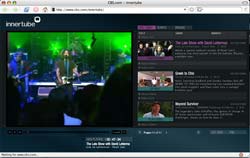 Add CBS to the list of networks that have should have bosses and IT departments across America quaking. The network has launched CBS Innertube, a Website dedicated to streaming video including interviews and behind-the-scenes clips from shows like 'Survivor' and 'The Amazing Race'; episodes of old or canceled series like this year's ill-fated 'Love Monkey'; and original shows such as 'Inturn,' in which actors compete for a spot on 'As the World Turns.' CBS also hopes to offer shows in syndication such as 'The Brady Bunch,' as well as repeat episodes of current shows. Of course, there are ads that you are forced to watch before you can get to the good stuff. As of this morning, there are three video clips on the site–nothing to get too excited about, although the interview with the guy who designs 'Survivor' challenges is pretty interesting. You can read more about the announcement here.
[by Cathy Lu, Digital World.]
Note: When you purchase something after clicking links in our articles, we may earn a small commission. Read our affiliate link policy for more details.