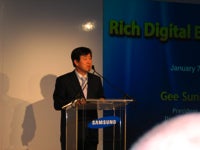 I just walked out of the Samsung press conference, having had so much information pushed down my throat that I'm actually suffering from indigestion. Sammy's president and CEO Gee Sung Choi (pictured) dragged out the pom-poms to cheer on Samsung's #1 position in the worldwide TV market, and then ran down what to expect from these guys this year.
The bottom line: a lot. Most of the time, unsurprisingly, was spent on Samsung's TV lines, but mentions was given to their music player line, Blu-Ray, and IT products (monitors, printers, etc.). New versions of pretty much everything abound, so let's do a quick rundown.
In the TV market, Samsung hopes to maintain its self-stated number one position by rolling out new TVs that both improve their picture quality while adding functionality. Look for LCD TVs backlit by LEDs as opposed to conventional fluorescent lights for contrast ratios of up to 100,000:1. They'll also be trying to cut down the ghosting problem that is one common complaint for LCDs by upping the frame rate to 120Hz from 60Hz, and trying to boost color reproduction. They also reiterated their support for DLP technology despite supposedly dropping sales.
Featurewise, they're also trying to roll out a wireless-enabled TV, which would basically offload most of the work to a base unit, which would then communicate wirelessly via 802.11n with the display proper. Samsung's also planning on integrating another pair of networking technologies: Bluetooth for wireless printing and wireless headphones, and the proprietary AnyNet Plus, which uses HDMI to let you control all of your peripherals via one remote control. Is it a dream? We'll have to wait and see.
In Blu-Ray, Samsung will be announcing their second-generation player, the BD-P1200, which will maintain backwards compatibility with traditional CDs and DVDs at a slightly lower pricepoint. Let's hope they've managed to drop the slow load times as well.
The biggish news is that Samsung has submitted a new TV standard for approval by the Advanced Television Systems Committee that would allow for mobile digital TV, even at highway or bullet train speeds. The Sammy boys stressed that this was not a cell or Internet technology, which makes me wonder if it's doomed to die. Broadcast itself has been facing challenges from the likes of downloadable TV, so why bother with a technology directed specifically towards one purpose, as opposed to mobile Intrenet technologies that would allow video content plus so much more? The standard has not yet been approved, and even once it is, it needs to be adopted by local television broadcasters. Meanwhile, Verizon is reputedly about to do the same thing with their cell network.
That'll do it mostly for Samsung news. Stay tuned for more from CES.