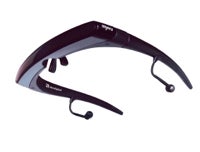 I'm generally dubious about any sort of video eyewear. I just have trouble imagining that watching video through a pair of glasses can be a satisfying experience. Yet one AP writer says that the MyVu personal media viewer is actually quite usable. The MyVu hooks up to your iPod's headphone port and simulates the feel of watching video on a 27-inch TV. According to the reviewer, the glasses were light and easy to wear, sound was clear, and video quality better than watching on a tiny iPod screen (not difficult). He says you can even walk around your house doing errands while wearing them. At $269, the glasses are pretty steep–and you might end up looking like a dork on the bus–but that's the cost of being cutting edge, right?
Dan's Thoughts: More video goggles. I tell you, the future is almost here. Now they just need to get them to an affordable price and I'm there. The future, that is. Oh, and if anybody wants to send me a pair of these to review, feel free.
Note: When you purchase something after clicking links in our articles, we may earn a small commission. Read our affiliate link policy for more details.