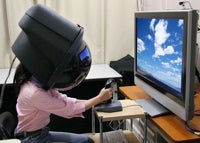 Sure, it's called the Xbox 360, but there's really nothing 360 about it. Wouldn't it be cool if you could see your television and games in 360° freedom? Think about it, you'd be totally immersed in your environment, experiencing it as if you were really ther—oh my god, it's eating her head .
Toshiba apparently has yet to figure out design aesthetics. This helmet is supposed to allow you to see 360° of video via its bubble-shaped screen, but it looks more like the person in question is wearing a CRT monitor on their head. There's no way that can be comfortable, is there?
Yeah, it would be cool to have a totally immersive experience, but I'd prefer to do it without breaking my neck, if that's okay. Thanks.
[via The Raw Feed ]