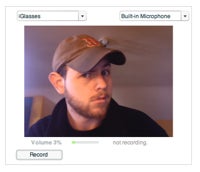 You love watching videos on YouTube, admit it. But when you want to put a video up on YouTube, it requires fiddling with software, codecs, uploading, all that fun stuff. Until now. YouTube has now introduced a Quick Capture feature on their website, which lets you use your video camera to capture footage and upload it directly to YouTube, all automatically.
I gave it a quick try with my MacBook's iSight and it seemed to work well enough. It even gives you options for both video and audio inputs. The interface is pretty simple, but there's really no support for any sort of editing, and the post-recording processing takes a while. What you record is what you get, so you'd better get it right on the first try, or else it's back to the beginning. Still, it's a simple setup for those looking to get videos of their dog doing stupid trick on the Internet pronto .
[via Lifehacker ]
Note: When you purchase something after clicking links in our articles, we may earn a small commission. Read our affiliate link policy for more details.