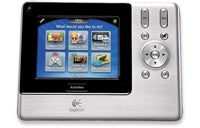 Is it just me or is it getting more and more confusing to navigate the myriad of home theater appliances? Everything has its own remote, and they all have different button layouts. Sure, you could go looking for a Universal Remote from RadioShack, but most of those can't handle the sheer magnitude of a real cutting edge system. What to do?
Well, Logitech's been pimping their sweet line of Harmony remotes for some time, and the latest, the Harmony 1000, takes the crown easy. It's a 3.5″ color touchscreen that can control not only your home theater equipment but (with the addition of Z-Wave technology) your lights, curtains, toaster, etc (provided you're using a home automation setup). The UI of the Harmony uses a activity-based menu system and features Internet setup and, for $150 extra, you can extend the range of the device up to 100 feet, even through walls. Those who don't need the home automation functions should probably go for the Harmony 880, which though slightly less sexy, is only half the $500 pricetag of its big sibling, the 1000.
Would that I someday will need a remote this hardcore. Until then, I'll make do with my handful of little plastic oblongs.
[via SCI FI Tech ]