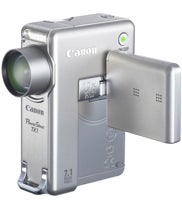 My Canon PowerShot A510 takes surprisingly decent video for a still camera. And it makes sense, when you think about it, that video and still cameras would get closer and closer together. Now, Canon's new PowerShot TX1 combines them in a surprisingly low-priced, attractive package that's got me thinking it might be time to upgrade.
The TX1 can take still shots at 7.1 megapixels, as well as record video at 720p HD. There's also a 10x optical zoom lens, ISO settings from 80 to 1600, face recognition, an orientation sensor (think horizontal vs. vertical, not north and south), and more. All for a very slick $500. While this probably won't get you professional quality video, and the lack of a microphone in port is certainly a bummer, at that price, it's well-positioned as an entry-level camcorder for budding young filmmakers. Think of it as the 8mm for the digital age and without any of the unpleasant Nicolas Cage associations.
The TX1 is Windows and OS X compatible, but no release date has been set yet.
[via Engadget ]