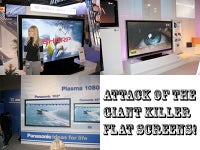 There's a whole lot of fighting to see who can make the biggest, bestest HD display. Among the contenders I've seen on the floor are offerings from Sharp, Panasonic, and LG, all of which are weighing it at over 100 inches. They vary in technology: Panasonic's model is a 103″ plasma, while LG's 102″ and Sharp's 108″ are both LCD screens. At the moment, Sharp and Panasonic hold the world's records for largest plasma and LCD screens respectively: expect that to change before too long.
While hundred inch screens have a lot in the way of wow factor, I wonder if it's a size that is really only practical for the crème de la crème. I made a crack about not having a 103″-compatible wall, but as I started to think about it last night, I realized that it's actually true: there really isn't any place in my house that I think I could easily fit a one hundred inch screen. Then again, the pricetags are probably out of my reach as well. Of course, now that there's the AppleTV…
Note: When you purchase something after clicking links in our articles, we may earn a small commission. Read our affiliate link policy for more details.