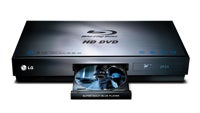 Word of LG's hybrid player first trickled down last week, but I got a chance to glance at it and talk to an LG rep last night. He answered one of my burning questions: what happens if you put one of Warner's hybrid Blu-Ray/HD DVD discs into the hybrid player? Turns out the hybrid discs have HD DVD on one side, Blu-Ray on the other, so it'll play whatever you put in.
The player, dubbed the " BH100 LG Super Multi Blue Player " (not an ounce of hyperbole, I'm sure), not only boasts compatibility with both HD formats, but also plays standard DVDs. All the features you'd expect to find on an a high def optical player are present: HDMI out, composite and component, optical and 5.1 channel audio, et cetera.
The real question is how this will affect the format war? With a list price of around $1200, the player is significantly more expensive than HD-DVD players, and slightly more expensive than Blu-Ray players (while still being much less expensive than buying one of each). Where LG has gone, others will likely follow, but hovering over this entire war is the dark cloud of downloadable HD video. Could the HD optical formats be DOA? Expect to see the hybrid player in this quarter, though the fallout might take years.