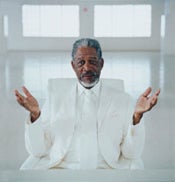 Another day, another movie download service. This time it's ClickStar, a venture designed to let you download movies for $20 and watch them on your computer or your television set (with an add-on piece of hardware). What's going to set this service apart from its many, many rivals?
Celebrity .
The face behind this service is none other than Hollywood actor Morgan Freeman. Freeman and his producing partner (and former computer scientist) Lori McCreary decided to launch ClickStar to preempt in the movie industry the kind of piracy the music industry had been facing. The company has been in talks with all sorts of major players, from Tom Hanks to News Corp. president Peter Chernin.
Is it likely to suceed? Freeman is an extremely charismatic figure who is well-beloved by both the general populace and the industry, and that doesn't hurt them (heck, the man has played God ). However, ClickStar doesn't do anything new : $20 is too high for downloadable content, and with no access to the iPod, they lack an end-to-end solution. They do have integration with Windows Media Center, but that software has yet to take off either. And in appeasing the studios with DRM, they're bound to alienate consumers—at the moment, that's largely how the balance goes.
[via Washington Post ]