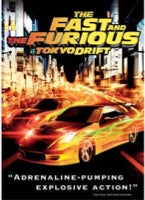 We've complained in the past about the paltry movie-download services. Of course, that was pre-iTunes, but one thing all of the services lack is robust DVD-burning. Movielink and CinemaNow are the only sites that allow DVD burning, but in order to prevent piracy (or to, at least, make it more difficult), they do so in such a way that the resulting discs are widely incompatible with set-top players.
These two services are also at a disadvantage that the titles they release for burning are often weeks behind the DVD release of a title, making it a hard sell to go and spend your hard-earned cash on downloading something which you can't tote around on a convenient disc.
That's about to change, as CinemaNow and Universal Pictures have announced that they plan on letting you download "The Fast and the Furious: Tokyo Drift" on the same day that the DVD is released, which was just this week. Not only that, but you'll be able to burn it to DVD, along with menus and special features.
Those last two are really the killers if CinemaNow does this right. One of the major complaints of the legitimate movie download services is that they offer comparatively little "bang for your buck." Why spend $15 on a movie download that is lower resolution than a DVD but also lacks all of the special features? "The Fast and the Furious" will go for $9.99, which is a pretty sweet price point, given that the DVD currently goes for $15 on Amazon. We'll be curious to see how it does, though we hope CinemaNow's cleaned up its DVD-burning act.