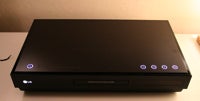 We've been talking up the LG Hybrid Player, ever since we learned of the super secret project surrounding its construction, deep in the bowels of LG's mountain lair. But now that the official ship date is mere days away, a few units have begun wending their way out to happy consumers. Gizmodo's Brian Lam just happens to be one of 'em, and he's posted his first review of the BH100.
Of course, the question on everybody's minds is whether or not this sucker will bring the next-gen optical format war to a close. The answer: mmmmm, probably not. For one thing, the BH100 seems to still lack full compatibility with HD DVD, making some of the spiffier features of that medium clunky at best, inaccessible at worst. There was also an issue getting it to output full 1080p resolution via HDMI to the display used, but your mileage may vary.
Still, the player gets a thumbs up for its sleek design, and for having decently speedy load times for both HD DVD and Blu-Ray (in the 30-40 seconds range). The BH100 will run you about $1200, which is actually slightly more than separate HD DVD and Blu-Ray players, so it's not likely to end battles any time soon. But if you're looking to cut down on clutter and don't mind sacrificing some of HD DVD's bells and whistles, well, this might be just the thing.