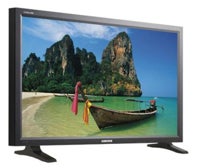 Talk about a waste of space. Samsung is releasing 40″ and 46″ LCD displays that come with an embedded version of Windows XP. In theory, these are mostly for use as signage; they can display slideshows or videos on their own, no central server required.
For those who love running the numbers, they have a 1366×768 resolution, 8ms response time, 700:1 contrast and 500cd/m 2 max brightness. They're out now, though no pricepoint has been mentioned (the previous, XP-free editions ran $8,950 for the 46″ and $6,750 for the 40″, so I'm guessing these will be more).
It seems to me, however, that these suckers are just asking for a giant Blue Screen of Death. Why the heck would anybody embed Windows in a perfectly good LCD display.
[via Engadget ]