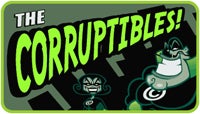 I'm sure it hasn't escaped your notice that we here at Gadgetbox, well, we're just nuts about technology. We like gadgets, gizmos, widgets, um… wizmos . Anything we can get our hands on and subsequently harness for our own diabolical ends. And we love discovering new things that we can do with technology: do you remember the first time, for example, you burned a mix CD? Magical, right? Or when you added some film clips to one of your home movies? Funny, yeah?
Well, the future's only getting brighter and technology's only getting more powerful. And caught straight in the middle of these inexorable forces are the content providers, the companies that help produce the TV shows we watch and the music we listen to. They're afraid that the new powers of technology will induce people to become thieves. Piracy will run rampant, and the streets will flow with blood bits. And while they have a right to protect their properties, oftentimes they do so over enthusiastically , in ways that erode the rights consumers have long held.
The Electronic Freedom Foundation, an organization that seeks to rein in the powers of the content providers, has produced a short introductory video about just what's at stake in the coming fight for the next-generation of content and technology. It's a good overview of a handful of measures that the content industry is trying to have passed into law, and it's engaging enough for even the most skeptical among us. Without further ado, I invite you to check out The Corruptibles.