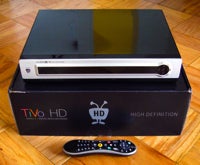 The tech web is all aflutter with news of the new TiVo Series 3. Both Gizmodo and Engadget got their grubby little mitts on the smooth silver stylings of TiVo's long-awaited HD-capable recorder. We here at Gadgetbox? We got a rock.
The skinny? It'll deal with 720p or 1080i, the HD broadcast standards, with no problem. It has room for two (count 'em, one, two) CableCards so you can record a pair of programs while playing back another. For output, it has component, composite, S-video, optical audio out, HDMI, and antenna or cable. It also includes an Ethernet jack, modem jack, and a pair of USB ports. This is also the first THX-certified DVR in the world (cue the dramatic music).
It's not all roses and butterflies though. The current CableCard standard is one-way only, meaning you won't be able to watch on demand video or use the Program Guide service. TiVo has also not finished the functionality for grabbing photos over the network, and TiVo2Go, which let you rip programs from the TiVo onto computers or portable players (iPod, PSP), is nowhere to be found as of yet.
For all of this sweet HD DVR goodness, you'll be shelling out $799 plus $12.95/month for service. Perfection, my friends, does not come cheap.