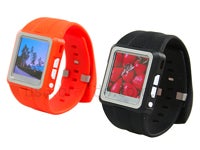 My watch seems so old school . All it does is tell time. Granted, it has both digital and analog displays, stores two timezones, has an alarm, and a stopwatch. Still, it doesn't play music and videos or record voices. How can I be expected to continue my career as a super spy without such a device?
The Brando USB MP4 Watch does all of the above on a 128×128 pixel screen, capable of displaying 65,000 colors. The orange or black watch connects to your computer over USB2.0 and stores up to 1GB of data. Playback wise it supports MP1, MP2, MP3, and WMA for audio and MP4 for video. You can listen via the included earphones, which plug into a headphone jack on the side of the watch.
I can just barely watch videos on my iPod's 320×240 screen. Somehow I think 128×128 is going to come up a little short. And at $98, it's a little expensive for a cheapo watch that plays back low quality video and stores less audio than any of my iPods.
Oh, but did we mention that it has "Outstanding Style"? Now you want one, admit it.
[via The Gadgeteer ]