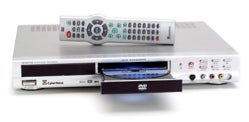 Just when you thought it was safe to pop a disc in your DVD player and enjoy a nice night of home theater *BAM*. You get shot. Okay, well not shot . But an FBI-led task force could be knocking on your door. Okay, well not your door, but perhaps the door of a nearby warehouse filled with DVD recorders.
Turns out that Feds had been tipped off that DVD peripheral manufacturer CyberHome has been infringing on patents by Philips and neglecting them to pay royalty fees. Oopsie. If you're not familiar with CyberHome, they make DVD players, recorders, portable players, and a few LCD TVs. I actually own one of their players (easy there, J. Edgar Hoover) which can be *ahem* altered to be region free. Or so I hear.
Upon receiving the tip-off, the FBI raided a California warehouse and seized over 20,000 CyberHome DVD recorders or, if you prefer your measurements in capacity, 8 tractor trailer loads. The state of California provides for both fines of up to half a million and jail time of up to 3 years for this kind of infringement.
Oh, and who do you think tipped off the G-men that CyberHome was infringing on Philips's patents? I'll give you a hint: seven letters, starts with 'P' and ends with 'hilips.' Didn't they ever learn that nobody loves a snitch?
[via Engadget ]