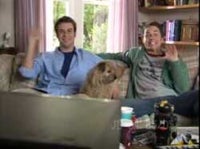 I'm sure you all know about YouTube, the community-based video clip sight on the web that has become one of its most recent fads. But what you may not know is that the site has affected the plans of a traditional form of video: the television network.
Last month, someone uploaded a pilot for a TV sitcom that had not been picked up. The show, Nobody's Watching , had been created by Scrubs creator Bill Lawrence, and starred Paul Campbell ( Battlestar Galactica ) and Tarran Killam ( Mad TV ). With no deal in place, the sitcom had seemed dead in the water, until somebody uploaded it to YouTube. The show rocketed to the front page, becoming one of the most viewed videos on the site, and just the other day, Variety reported that the show had been picked up by NBC, based largely upon its online success.
I think this is fantastic. The number of pilots that don't get picked up by networks is rather large, and they're rarely seen outside of Hollywood; why not leverage the power of the Net to find out what people actually want to watch, instead of focus grouping these things to death? And rest assured, when the show finally hits air, I will be watching.
Now that Nobody's Watching has been revitalized, perhaps there is still hope for my favorite pilot, Heat Vision and Jack.