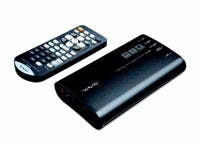 I love that I can trail my iPod around and hook it up to a TV to watch sweet, sweet video, but there're a couple things holding it back from being truly useful. One is the resolution of the video: 640×480 looks fine on my conventional 27″ CRT, but not so hot on my buddy's 50″ plasma. Where be the HD?
Secondly, the remote leaves a little something to be desired. Even if I do hook up my Universal Dock, I have to navigate to the video before seating myself on the couch to use my Apple Remote.
Onkyo's Wavio MP-1000J (Japanese link) is not the first A/V-enabled hard drive around, by any mean, but it looks pretty slick and it supports HD resolutions of 480p, 720p and 1080i over an AV cable (in either composite or component video forms) and Dolby Digital and DTS over a coaxial connection. You can load your media onto the Wavio over USB, and it comes with a remote control for comfy couch viewing. It also appears to come with a car charger, so you can watch media while you're in your car. Great, something else to be worried about.
The Wavio's being released in Japan now for approximately $125 with no hard drive included.
[via Ubergizmo ]