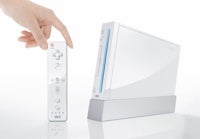 Remember just a couple weeks ago when we found out that an enhanced version of the Wii, featuring DVD playback, would appear in Japan next year for a slightly increased price? Supposedly, that version would never ever in a million years make it to North American shores.
Yeah, not so much. According to Nintendo of America's Public Relations Manager Matt Atwood, though the price has not yet been determined, the DVD-playing (cheekily christened the "WiiVD" by some) version of the Wii will be showing up in North American sometime in late 2007.
Is this a deal breaker? Not for me, I suppose—pretty much everything in my house, up to and including my toaster, plays back DVDs; and given that my primary DVD player is also region-free, it's going to take some serious functionality to supersede that . And, as others have pointed out, the Wii doesn't support 5.1 surround sound, so I wouldn't hold my breath for the slightly upgraded version.
[via Joystiq ]