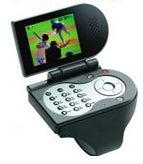 Clearly those pesky wrists aren't getting enough of a workout. In the future, everything will be wrist-mounted. Radios, Bluetooth headsets, and even your TV. Japanese company Willcom is giving away TV Watches to purchasers of Asahi beer: 3000 in silver, 1000 in white, and 1000 in red. Now you'll be able to watch your TV in conspicuously.
American would-be wristwatchers (ha ha) won't get too much use out of the TV Watch, since it's specifically designed to work with the one-seg broadcast format, designed to be used specifically for TV shows broadcast to cellular and mobile devices.
Unfortunately, I think the device needs to get a little smaller before it really takes off. Call me back when you can mount it on the inside of a pair of sunglasses.
[via Digital World Tokyo ]