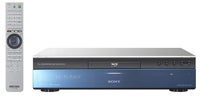 Ready to jump on the Blu-Ray bandwagon, but don't feel like peeling ten Franklins off that bankroll? Sony's preparing to launch a lower cost Blu-Ray player this summer: the BDP-S300.
The S300's biggest selling point is its price: at $600, it's only slightly more expensive than a competing HD-DVD player. As such, it will also run about equal to the cost of the higher-end PlayStation 3, which was to date the cheapest Blu-Ray player available.
Strangely enough, Sony claims the S300 will have the "same capabilities" as its flagship BDP-S1 (pictured). Granted, in PR speak, that could mean anything from the exact same feature lineup to "yes, it also plays Blu-Ray discs." The S300 will also be physically somewhat smaller than the S1, about the same size as a conventional DVD player. It will do 1080p, and it will also play CDs, which the S1 won't.
Sony Electronics president Stan Glasgow also reputedly said that Blu-Ray players would drop below $500 by this holiday season. So unless you need one stat, you're probably better off waiting.
[via Engadget ]