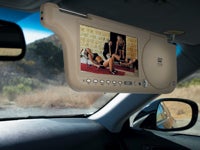 In the history of disastrous gadgets, I'm sure there have been many. The combination footbath/shredder (why, god, why? ); the robotic lawnmover (Rover, we hardly knew ya); and now, the Sun Visor TV/DVD Theater, which is pretty much exactly what it sounds like.
Look, there are enough distractions on the road today, what with iPods, cellphones, satellite radio, and the continued idiocy of other drivers. Do we really need a device that lets the driver watch television? Further: what the hell are they watching there, exactly? Exercise videos ? You're going to keep in shape while driving ? Brilliant .
This isn't to say that it isn't packed full of features. It plays CDs, DVDs, VCDs, MP3 CDs, comes with an SD card reader, an FM transmitter for listening to the audio over your car stereo, and a USB port. So you can plug in your computer. Right. Oh, you'll be "the carpool envy of all of your friends," all right. Only I'm not riding in your deathtrap , you hear me?
For the privilege of getting yourself into a fiery ball of destruction , you'll pay just $300. A steal at twice the price.
[via Red Ferret Journal ]