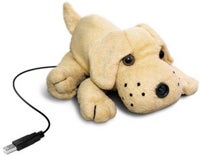 Like the idea of having a webcam, but can't stand the awful ugly "eyeball" design that most of them have. You could buy an iSight, but they're a little expensive. Or, you could go for a ~$55 "Webcam Sweety-Cam" named "Chien."
Besides being adorably cute, this little pooch's nose is actually a 1.3 megapixel USB webcam. The possibilities are endless: It could be a cute video baby monitor or a…webcam that looks like a stuffed dog. Really, I don't know what else to say. The software says it works with all versions of Windows post 98SE, so I'd imagine you might be able to get it up and running on the Mac without too much trouble. All that's left then is to justify why exactly you have a webcam that looks like a stuffed dog.
Good luck with that.
[via Gizmodo ]