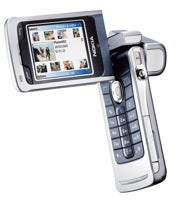 It's becoming more and more common for film directors to shoot their movies on high-end digital video. Amateur filmmakers jumpstarted the trent to move to digital, given that the costs of production are vastly lower than their traditional film counterparts. Now some filmmakers have taken that to the next level; instead of using consumer-level camcorders that might cost a few hundred or thousand of dollars, they're using the video recording capacity of a video camera-enabled cellphone.
In the filming of their documentary, "New Love Meetings," Italian co-directors Marcello Mencarini and Barbara Seghezzi used a Nokia N90 (seen at right) to shoot interviews with some 700 people around Italy. Given that most cellphone cameras work pretty badly in the dark, a pocket flashlight was occasionally used, but reportedly no post-production was done on the image.
In the end, it seems as though the format may have encouraged the subjects of the documentary, which is about love and sex, by providing a more comfortable atmosphere:
"To use a small instrument that belongs to people's daily routine allows you to establish an intimate dialogue, instead of using a regular camera," [Seghezzi] said. "The interview becomes more like a chat."

Mencarini said some people were intrigued that such a familiar item was being used to shoot a movie.
The film's producers are now looking for means to distribute it. But the cameras on cellphones are only getting better, so who knows? Within the decade we could be seeing an Oscar-winning film shot entirely on a cellphone.
[hat tip to Cyrus Farivar]