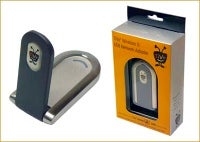 WPA is where it's at if you want a secure wireless network in your house. Lately though, the problem is that many devices now ship with wireless support (802.11b/g natch) but they totally skimp on the wireless security.
The DS Lite only has WEP. I have to run a second wireless router and hope that no one breaks the WEP and gets around the MAC address filter. Why WPA isn't standard now is beyond me. Many consumers just plain give up on security because of stuff like this.
TiVo is doing something right by supporting WPA with its wireless adapter. After all, a TiVo is one of those devices you want connected to the net at all times.